Listen With Sarah - 'The World of Listen With Sarah'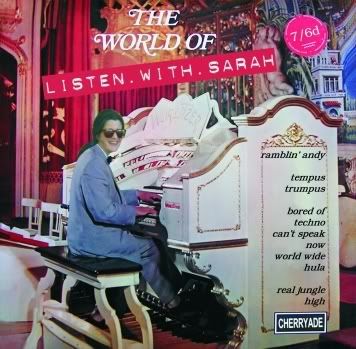 Cherryade Records is very proud to announce its eighth release in the form of 'The World Of Listen With Sarah' CD EP (CHY008) by the amazing Listen With Sarah.
Describing her unique sound as 'breakbleet farmcore hulastep serendipity,' Sarah and her computer have been making beautiful music together since 2002. In 2004 Sarah sent a 3 track demo to the much missed John Peel, who quickly picked up on the EP and played 'Animal Hop' on his Radio 1 show. In the next few months before his death in October of 2004 John played no less than 9 of Sarah's songs on his shows. After John's death Radio 1 DJs Rob Da Bank and Huw Stephens continued to play Sarah's compositions and she gained international recognition and airplay. Listen With Sarah also appeared in the 2004 and 2005 Festive Fifty charts.
2006 was a busy year for her: she released her first material since the now unavailable highly acclaimed debut album Are You Sitting Comfortably in the form of the single 'Another Nice Mix,' recorded a session for BBC Radio 3's Andy Kershaw show and had the track 'Blue Parsley' appeared on the Sunday Best compilation Folk Off alongside Vashti Bunyan and King Creosote, amongst others.
The EP is limited to only 500 copies and comes with stunning artwork designed by Sarah herself. It is due for release only a week after Cherryade releases Listen With Sarah's double A-side 7" single 'My Little Hula Girl/Animal Boum' and the two will be available to buy together for a reduced price only from the Cherryade website.
'The World of Listen With Sarah' is released on Febuary 5th 2007. Tracklisting is:
1. Ramblin' Andy
2. Tempus Trumpus
3. Bored of Techno / Can't Speak Now
4. World Wide Hula
5. Real Jungle High (part 1)
6. Real Jungle High (part 2)
The World of Listen With Sarah (CD) £6.00
Special offer: buy 'My Little Hula Girl / Animal Boum!' and 'The World of Listen With Sarah' together and get a 10% discount!
My Little Hula Girl + The World of Listen With Sarah (7" & CD) £9.00
DJs that have played tracks from the EP include:
Peter Nelson (The Peter Nelson Show)
Stuart Maconie (Six Music)
Rob da Bank (Radio 1)
Nic Treadwell (Homegrown Podcast)
Jon Miller (Brierly Hill 90210)
Musc For Listeners (KRTU FM, USA)