Kids Love Lies - "Under the Bed"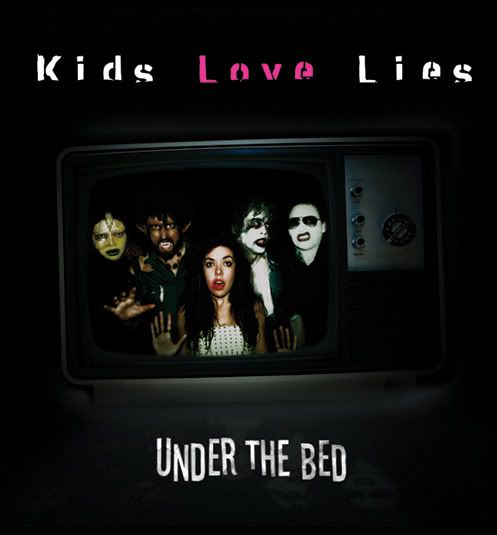 Cherryade is delighted to present "Under The Bed" (CHY027), the second single by hotly-tipped London band Kids Love Lies, to be released as a very limited edition CD single.
Kids Love Lies are a fast and frenetic female-fronted quintet that play exhilarating, dramatic girl pop with more than a hint of Sleater Kinney, but with a refreshingly English twist. Since playing their first gig in January 2008 the band have received airplay from Tom Robinson on Six Music, Huw Stevens & Nick Grimshaw on Radio One, and their debut single was picked as BBC Kent Introducing's single of the week; this new release has already been chosen as track of the day on The Times online website, and will be single of the month in Artrocker's October edition!
Kids Love Lies had been building up a great reputation, playing with bands such as Fight Like Apes, Scanners and Theoretical Girl, and also securing a place at the Shoreditch Shuffle and Offset festival and embarked on a UK and German tour. The release of debut single "Count In My Head" in April of this year was greeted with widespread acclaim by the likes of the NME, The Guardian, The Times and Artrocker, as well as airplay from the likes of Huw Stephens, Zane Lowe, Tom Robinson, Steve Lamacq and Jon Kennedy; the summer of 2009 saw them building on their fast-growing enthusiastic fanbase by appearing at The Great Escape and Radio One's Summer Sunday Weekender festivals. Their second single, "Under the Bed," is set to replicate the success of its predecessor as a truly infectious gem guaranteed to burrow its way into the listener's brain and never leave!
The single was released on October 12th 2009 and is available to buy from all good record shops – distributed by Cargo – and on iTunes, as well as directly below, of course!
"Entirely pleasant and sprightly new wave hoo-haa, with a lady vocalist who just can't sit still for an instant and a drummer who seems to be intent on utilising every last bit of his drumkit at least once. Do you remember early-80s group Bow Wow Wow? Because it sounds a lot like them. The B-sides - of which Fight Face is particularly endearing in a yelpy, restless kind of way - do too, but, you know, one has to factor in the younger readers" - The Guardian
"A shining example of the new voice of post-punk, Kids Love Lies take in influences ranging from the Slits to the Pixies, with hook-heavy female vocals juxtaposed against sharp riffs to create a genuine hybridisation of legendary sounds" - The Boiler Room
"Yep, tweecore/power pop/pop-punk – whatever you want to call it – is seemingly here to stay across the ages, and this lot encapsulate the best of it, handclaps and all. Blending bits of their precursors (think sanded-down Pretty Girls Make Graves, BYOP, Noisettes with a highly-strung Marina of The Diamonds on vocals) Kids Love Lies are taking care of Bisness" - NME
"Under the Bed" was released on October 12th 2009, and, as a super-special bonus for those of you that missed buying the debut single first time round, we're offering "Under the Bed" plus a copy of one of the remaining "Count In My Head" 7"s for the unbelievable price of just £5 plus £2 postage! Yes, you did read that right! So get your order in now before the last copies disappear. Tracklisting is:
1. Under the Bed
2. Big Mouth
3. Learning To Smile
"Under the Bed" (CD) £3.00
.
SPECIAL OFFER!
"Under the Bed" (CD) & "Count In My Head" (7") £5.00
DJs that have played tracks from the single include:
Jon Kennedy (XFM)
Radio 1 Introducing (Radio 1)
Huw Stephens (Radio 1)
Tom Robinson (6 Music)