Hotpants Romance -
The International Hotpants Romance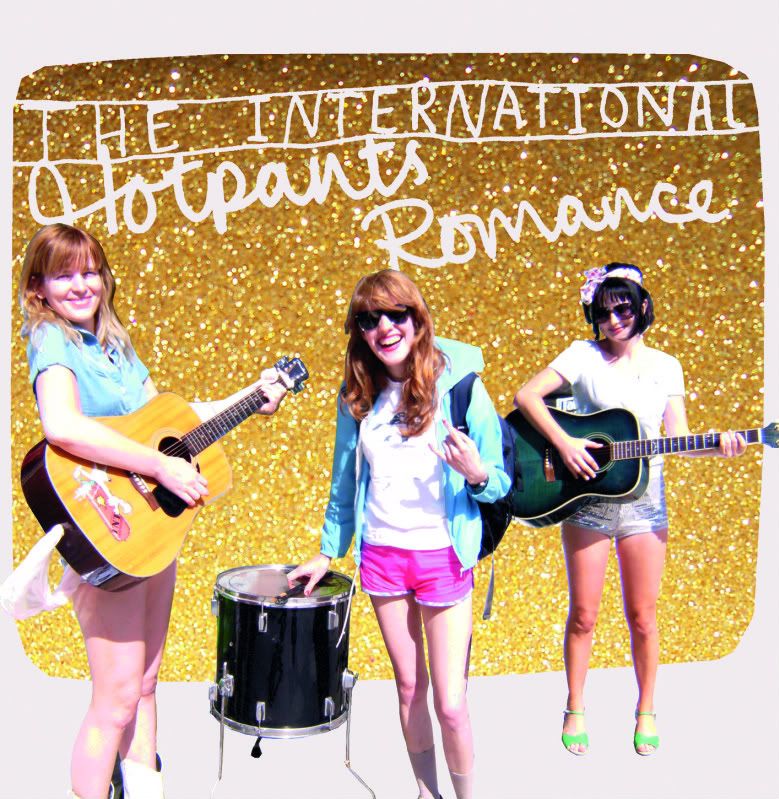 Cherryade is delighted to present its 34th release, the long-awaited second album by one of the most exciting bands in the UK, Manchester's Hotpants Romance, released on 08/11/2010.
On the 14th February 2005 Hotpants Romance formed two hours before their first gig, with a vow to play once a year on Valentines Day, after a storming two-and-a-half song set left the audience wanted more. The original plan was dropped in favour of playing anywhere and everywhere that would have them. Following a terrible second gig hotpants became compulsory and Hotpants Romance soon became the talk of the Manchester music scene. After a year or two of playing gigs in bedrooms they found themselves on the Megabus taking their own brand of pop music the length and breadth of the country. In 2008 The Nightingale's Robert Lloyd released the first Hotpants Romance album on his Big Print label: It's A Heatwave crashed into the world, catching the attention of music press and radio stations to great critical acclaim. 2008 saw them visit the USA twice, first the east coast to tour with the Nightingales and Christy & Emily. To coincide with the US release of It's A Heatwave on the Happy Happy Birthday To Me label they returned in August for a tour of the Southern States with labelmates Cars Can Be Blue. Since then they have toured with The Lovely Eggs, Vivian Girls and The Ting Tings, and been played on radio stations around the world, including a recent live session at BBC 6 Music on Marc Riley's show. The band embarked on a UK and European tour in support of the album, full details of which can be found on their website www.hotpantsromance.blogspot.com and Myspace page.
What reviewers said about their first album:
"Hotpants Romance are easily my perfect band this year or any other" – Everett True, Plan B Magazine
"So far, so awfully good" – Village Voice, New York
"Impressively infantile insolence and a delightful scattershot, sugar-hit sound" – Stewart Lee, The Times
Their long-awaited sophomore album, The International Hotpants Romance, offers even more gloriously unashamed shambolic pop thrills than their debut and features 12 of the most essential pop songs you will hear all year. The album was released on 08/11/2010 and is available from all good record shops (distributed by Cargo) and from iTunes and all other major digital outlets as well as directly from the Cherryade website here; you can also watch the brilliant video for the track 'Emails' on YouTube here. Tracklisting is:
1. Go Dancing
2. I Know You Can Drive
3. Blackpool
4. Relax
5. I Remember You
6. Strike
7. Emails
8. The Internet
9. The Knife
10. You're Not Funny
11. OCD
12. Summer Romance
The International Hotpants Romance (CD) £8.00
.
DJs that have played tracks from the album include:
Marc Riley (6 Music)
Steve Lamacq (6 Music)
Jon Kennedy (XFM)