The Gresham Flyers - "There's Been A Murder"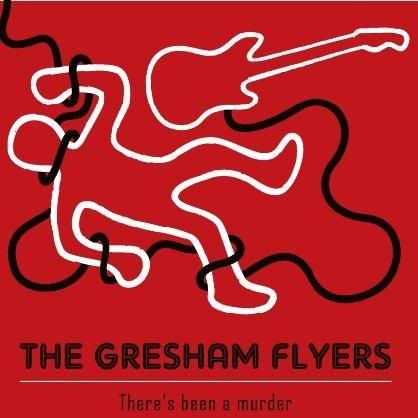 Cherryade is delighted to present CHY031, "There's Been A Murder" the much-anticipated new EP by The Gresham Flyers, released 06/04/2010.
London-based quintet The Gresham Flyers are the hybrid of their diverse geographical backgrounds (North, Midlands, South and Slough) and the best bits of your record collection, all sprinkled with a little sugar – David Gedge fronting an unruly combination of Sparks and Pulp.
Describing their sound as "classy, energetic pop, boy/ girl singers, handclaps, and hooks you can hang your duffel coat on", the band pride themselves on their instrument-swapping diversity and ear for a good hook, based around the diverse influences of the band, from the indie storytelling of Pulp and Belle & Sebastian, to the electronic washes of New Order or Sparks, to the manic strum of The Wedding Present, to the classy pop-rock of Roxy Music, 10cc and The Tubes.
As well as a growing live reputation having shared stages with names such as Bearsuit, Saturday Looks Good To Me and The Ladybug Transistor, the band gained more fans with the release of their 2006 seven-inch single 'Shiftwork'. Rough Trade called it "a cracking little single that is sure to announce the band to the wider world", and were shocked at the demand created by this limited blue-tinged seven-inch.
On top of contributing standout track 'Blackpool' to the critically-acclaimed compilation The Kids At The Club on How Does It Feel Records, they were also featured on A Very Cherry Christmas volumes 3 & 4.
This was followed up by the release of their long-awaited debut album, Sex With Strangers, released on Cherryade in May 2008 to widespread critical acclaim. Since then the band have been busy playing gigs all over Europe, appearing on a number of compilations including the highly-acclaimed Bruce Springsteen covers compilation Skip Some School, Play Some Pool, Act Real Cool on WIAIWYA records, and writing and recording new material.
The fruits of their labour are showcased on their new EP "There's Been A Murder", which continues to showcase the bands unerring ability to produce one perfect pop tune after another, and is sure to delight anyone who loves classic pop music.
Also, we are offering a chance to buy the EP along with the band's debut album for only £10 from the Cherryade website (effectively getting the EP for free if you purchase the album!). The EP will be available from all good record shops (distributed by Cargo) and on iTunes and other digital outlets as well as direct from the Cherryade website; you can find out more about the band at their website. There CD was released on 06/04/2010; tracklisting is:
1. Taggart
2. Frittata
3. Troopy
4. Your Friend
"There's Been A Murder" (CD) £4.00
.
SPECIAL OFFER!
"There's Been A Murder" (CD) & Sex With Strangers (CD) £10.00
.