The Deirdres - "Milk Is Politics / Sir Michael of Aspel"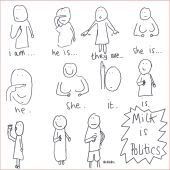 Cherryade is delighted to present its 20th release, the debut single by rising pop starlets The Deirdres. Milk Is Politics/Sir Michael Of Aspel was released on snowy white vinyl on Monday Nov 17th 2008 and is available through all good record shops (distributed by Cargo) and on iTunes, and it is, of course, available to buy here.

The Deirdres. Does that name sound familiar? After various performances on quality television programmes such as Poker Star World Cup Poker and the Antiques Roadshow, it's really not surprising!

The Deirdres formed in 2006 and since then the enchanting Derby-based 7-piece have been spellbinding audiences up and down the country and even as far afield as Sweden and Denmark with their gloriously shambolic and spontaneous live shows and magical pop. They appeared at this summer's IndieTracks festival, and have played gigs with the likes of Bearsuit, The Bobby McGee's, Horowitz, MJ Hibbett, and many more. The Deirdres are like a soundtrack to your dreams, a glorious, hedonistic mix of an infinite number of instruments, joyous vocals and beautifully addictive melodies.

Having recently released and toured an EP with Swedish record label, Cosy Den, Cherryade is delighted to present the Deirdres debut UK release, a double A-side featuring the stunning Milk Is Politics and the fan-favourite Sir Michael Of Aspel, which tells the story of the band's TV appearance on the Antique's Roadshow (featuring a guest vocal from the man himself!). Only 500 copies available of this heavenly slice of indiepop magic!
"The Deirdres are actually one of modern indiepop's more original-sounding bands, similar to Bearsuit in the way they shoot out lo-fi melodies that seem utterly spontaneous… The Deirdres are so good it's poignant." - Neil Jones, www.musicomh.com
"To call them 'amateurish' is to miss the point with a big neon hula hoop… But we had fun and they had fun - that should be more than enough" - Heaven Is Above Your Head
"The Deirdres are not a band: they are a precious poetic ideal and a vulnerable one at that. Something to be protected and cherished; something that sits outside reality. There is no calculation in what they do. Their songs are systems of resistance and those of us who dance around at their shows become part of that moment when intelligence and nonsense are finally one, as they should be. - Hey Hey Honeypop
"I wouldn't put it on my desert island discs" - Michael Aspel
"Milk Is Politics / Sir Michael of Aspel" was officially released on November 17th 2008. Tracklisting is:
1. Milk Is Politics
2. Sir Michael of Aspel
"Milk Is Politics / Sir Michael of Aspel" (7") £3.50