The Bobby McGee's - L'Appropriation Bourgoisie de la Bobby McGee's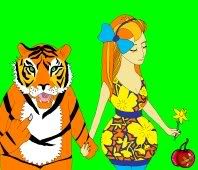 So. It's finally here - the very long-awaited debut album by legendary tweecore heroes, Brighton's The Bobby McGee's, L'Appropriation Bourgoisie de le Bobby McGee's (CHY025).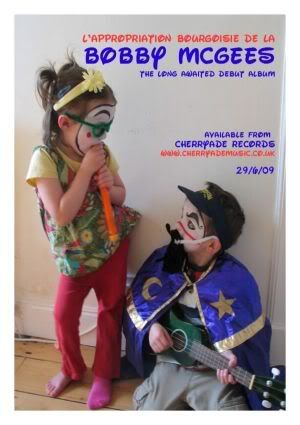 Jimmy and El started writing and playing songs together in 2002, until they were joined by Graeme on bass and recorded a whole album's worth of hit songs together in one night. The result of these recordings was their debut EP "The Bobby McGee's? Yes Please!", released on Cherryade in April 2006, which gained them an ever-growing army of fans all over the world, regular airplay from the likes of Huw Stephens, Rob Da Bank, Steve Lamacq, Colin Murray, Jon Kennedy and Tom Robinson, celebrity fans such as Jarvis Cocker and Fatboy Slim, and left reviewers scratching their heads trying to come up with words to describe The Bobby McGee's experience! In November 2007 their long awaited second EP, "S'Amuser Com Des Fous", was released on Cherryade, and cemented their reputation as one of the most exciting bands in the country.
The story of The Bobby McGee's rise to cult stardom can only be described as extraordinary, involving, as it has, playing at Sweden's Emmaboda festival and 2007 and 2008's IndieTracks festivals, articles in the NME, Artrocker, Plan B and even Bizarre Magazine, sessions for Huw Stephens' Radio 1 show, Tom Robinson's 6 Music show and Jon Kennedy's XFM show and, in February of this year, one of their songs was used in an advert for Film Four. This summer of will see them appearing at a number of festivals including Glastonbury and IndieTracks 2009, and they have done it all themselves, even building their own studio from scratch.
Since they burst onto the British music scene over three years ago, The Bobby McGee's have left a trail of besotted fans in their wake, wowing audiences everywhere with their magical live shows, impressive array of instruments and fabulous stage costumes and make-up. They have also inspired a whole new generation of bands and have utterly altered and regenerated the UK antifolk and tweecore scenes in a way no other bands have. Since the release of their debut EP, the number of bands inspired by The Bobby McGee's to pick up ukuleles, harmonicas and Jew's harps has been astonishing, and it's now time that one of the most influential bands of recent years gets the recognition they deserve; with their utterly enchanting debut album, international stardom cannot be far away! L'Appropriation Bourgoisie De La Bobby McGee's was written and recorded entirely by Jimmy, El, Graeme and Becca themselves, and features 15 tracks of utter genius, sometimes tender, sometimes angry, sometimes hilarious and sometimes poignant, it is impossible not to fall in love with this truly astonishing album.
The album was preceded by a 7" single, featuring three album tracks, 'L.O.V.E.', 'Go Tiger Go!' and 'Harold & Maude', released through Twee As Fuck Records on Monday 25th May, available through all good independent record shops and direct from Twee As Fuck.
"In my ideal world Bobby McGee's would be No.1 EVERY DAY!" - Huw Stevens, Radio 1
"Like Dostoyevsky Doing Skiffle!" - Everett True, Plan B
"Demented... Psychotic... Brilliant... World Beating" - Artrocker
"Evoking the spirit of Ivor Cutler & Ed Gein… Wonderfully endearing & highly dangerous" - Bizarre Magazine
To find out more about the band, visit the Bobby McGee's MySpace page. L'Appropriation Bourgoisie de la Bobby McGee's is available from iTunes and all good independent record stores (distributed through Cargo) as well as this site. It was released on June 29th 2009, and as a special treat to celebrate the new release we're putting on a very special offer: buy the debut album and "S'Amuser Com Des Fous", their previous outing, together for just £12! Bargain! Tracklisting is:
1. Tractatus Logico-Musica
2. A Note on the Watson Problem
3. We Never Sleep [video]
4. Buckfast at Tiffany's
5. Prick Up Your Ears
6. Certum Est Quia Possible
7. Goodbye Blue Monday
8. A Masonic Youth [video]
9. Kawai/Kawaii
10. Come the Fuck On Lara!
11. Kabhi Khushi, Khabie Gham
12. It's Faster, Stan
13. Teaching the Obvious 2 the Idiots
14. Wovon Man Nicht Sprechen Kann, Daruber Mus Man Schwen
15. The Torment of Existence Weighed Against the Horror of Non-Being
L'Appropriation Bourgoisie de la Bobby McGee's (CD) £10.00
SPECIAL OFFER!
L'Appropriation Bourgoisie de la Bobby McGee's
&
S'Amuser Com Des Fous
£12.00
DJs that have played tracks from the album include:
Jon Kennedy (XFM)
Huw Stephens (Radio 1)
Tom Robinson (Six Music)