Ste McCabe - "Harrowing Breakdown EP"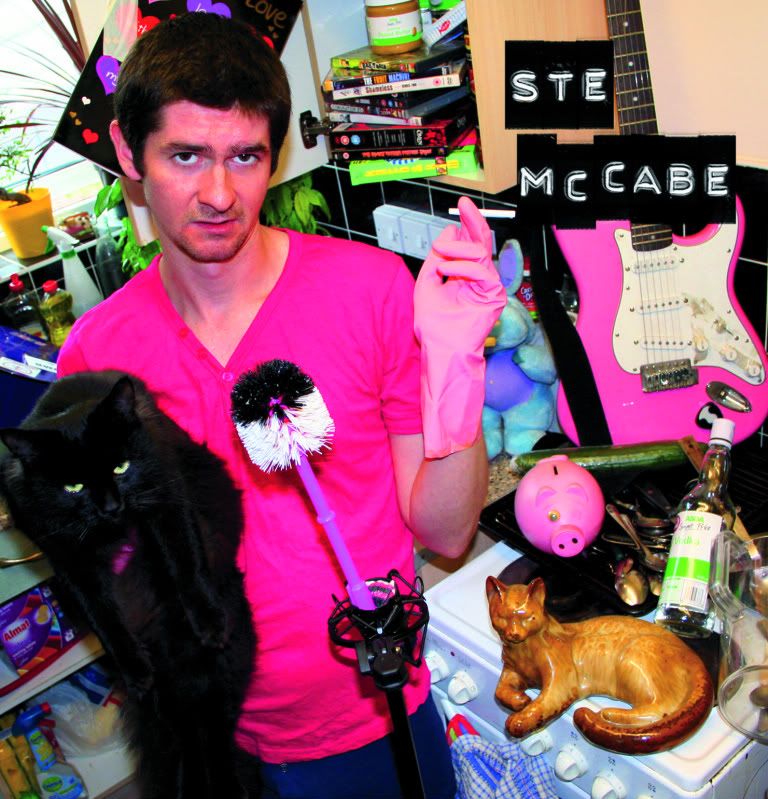 "Ste McCabe is a national treasure" – Organ Zine
"Insanely catchy and well-observed" – Atomic Duster
Cherryade presents CHY036, the brand new EP by Manchester's queer pop punk superstar, Ste McCabe. Following the success of last year's controversial sophomore album Murder Music, Ste has had a whirlwind year which has seen him playing gigs all over Europe as well as at London's prestigious literary festival, and hosting an event at the London fringe. He has also gained celebrity fans such as Boy George and has collaborated with David Hoyle on a number of projects, as well as being featured in publications as diverse as Artrocker and Gay Times, and has generally continued to build his reputation as one of the most exciting and outspoken queer artists in the UK today.
Ste's latest EP sees him in a more positive, upbeat mood than last year's intensely dark and angry masterpiece Murder Music; this is not to say that Ste has lost any of his righteously irate edge – the lyrics on the Harrowing Breakdown EP are as cutting and sharply funny as ever – but are backed by some of the catchiest tunes you'll hear all year, proving that the dancefloor is a perfect place for a riot!
The EP was released on Monday November 1st 2010 and is available from all good record shops (distributed by Cargo), from iTunes and most major digital outlets - and is available of course from this page. What's more, if you buy Ste's previous two albums as well as the new EP you'll get them for the fantastic price of just £15 (plus £2 p&p)! Tracklisting is:
1. Harrowing Breakdown
2. Make Your Own Kind Of Music
3. Ste McCabe - One, Lloyds TSB - Nil
4. That's Not Very Funny
5. Murder Music [Owen J remix]
"Harrowing Breakdown EP" (CD) £5.00
SPECIAL OFFER!
"Harrowing Breakdown EP" + Murder Music + Hate Mail (CD) £15.00
.
DJs that have played tracks from the single include:
Huw Stephens (Radio One)
Tom Robinson (6 Music)
"A queer-feminist punk-poet for the people" - Time Out London
"If you like punk, you'll love this. If you're queer and like punk, you'll spunk your pants. Ste McCabe is authentic and brilliant" – Boy George