Cherryade - A Very Cherry Christmas volume 5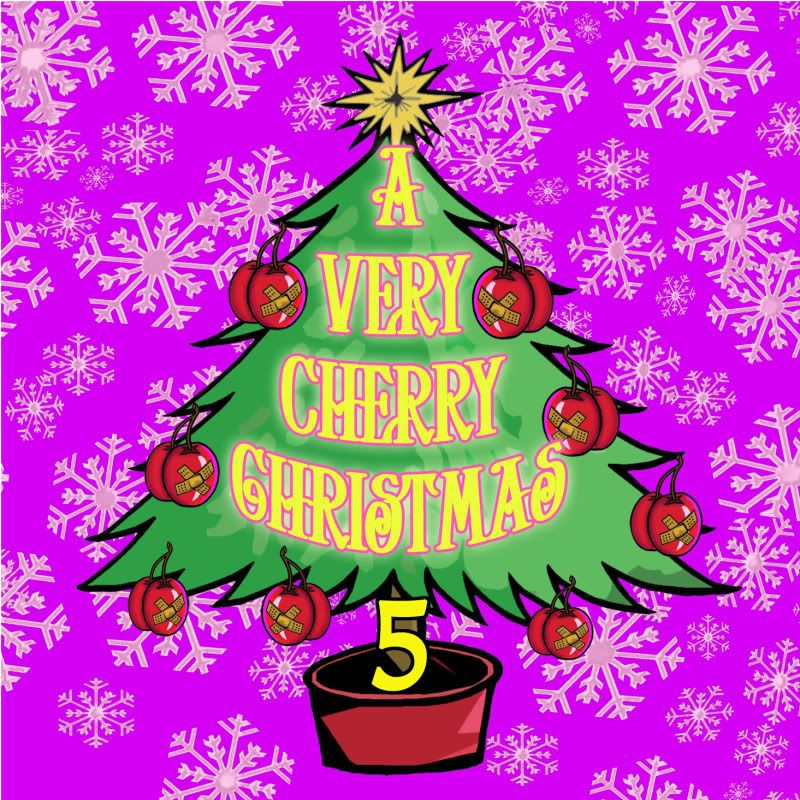 "It's that time of year again when the people at Cherryade reach into bulging Santa's sack and pick out assorted shiny aural trinkets. This DIY music compilation of fiercely independent artists is the perfect gift for kids who miss John Peel's Festive Fifty" - God Is In The TV
"Probably the most indie label in Europe, Manchester-based DIY-label Cherryade Records have got into the spirit over the last 4 years with A Very Cherry Christmas, an annual compilation that brings together some of the most DIY and indie performers who, in a parallel universe, would be number one on Top of the Pops" - The Independent
Cherryade is proud to celebrate reaching its 30th release with the fifth in our annual A Very Cherry Christmas festive compilation series.
The previous four volumes have featured specially-recorded seasonal tunes from some of the best bands around, including A Smile and A Ribbon, Das Wanderlust, The Bobby Mcgee's, Misty's Big Adventure, The Lovely Eggs, Little My, Dawn of the Replicants, Paul Hawkins, Mia Vigar, Fever Fever, Applicants, Hotpants Romance, The Deirdres and many, many more. Over the last four years, A Very Cherry Christmas has become something of a festive institution, with tracks from every compilation receiving extensive airplay from the likes of Radio 1's Huw Stephens, Rob Da Bank, Steve Lamacq and Bethan Elfin, 6 Music's Tom Robinson and Mark Riley, and XFM's Jon Kennedy, as well as a number of other DJs all over the world, and reviews in Plan B and The Independent.
So, A Very Cherry Christmas volume 5 has a lot to live up to, and we're delighted to say it doesn't disappoint! Boasting 25 festive treats from some of the best bands around today, 21 brand new tracks and 4 favourites from the first 4 volumes, including The School, Das Wanderlust, Persil, Shrag, Allo Darlin', The Bobby McGee's, The Lovely Eggs, Mia Vigar, The Gresham Flyers, Foxes, Sparky's Magic Piano and many, many more, it may be the best in the series so far, and is sure to still sound as fresh and exciting in July as it did on Christmas Day - beats novelty socks and jumpers any day! The album will also be available to buy in all good record shops and on iTunes (distributed by Cargo) making it the first volume of A Very Cherry Christmas to be available outside the Cherryade website.
"Continuing a welcome tradition from the mighty Cherryade Records, it now feels like Christmas just wouldn't be Christmas without this annual compilation" - Martin Kendrick for Noize Makes Enemies
"This compilation is the best thing to happen to Christmas since sprouts – I should point out that I love sprouts!" - Artrocker
"You'd have to be a very hard-hearted Scrooge McDuck not to welcome the arrival of the annual Christmas compilation from everyone's favourite DIY label Cherryade Records" - Lobster Quadrille

A Very Cherry Christmas 5 was released on November 16th 2009 and is available for only £6. Tracklisting for this special bumper edition is:
1. The School - Let Me Be The Fairy On Your Christmas Tree Tonight
2. Das Wanderlust - Someone To Pull Crackers With
3. Allo Darlin' - S P A C E Christmas
4. The Lovely Eggs - Tyrannosaurus Rex for Christmas
5. The 10p Mixes - Christmas Number One
6. Fever Fever - Little Drummer Boy
7. Detox Cute and the Beauty Junkies - Unhappy New Year
8. Sparky's Magic Piano - The Escape From Aled Jones
9. Persil - Dear Santa
10. Mia Vigar - What the Hell
11. Tiger MCs - The Way That You Arrived
12. hearts!attack - It Was Christmas That Killed Us
13. The Gresham Flyers - Mistletoe Misadventure
14. Foxes - Christmas Gifts
15. The Bobby McGee's - Sub Santalales
16. Shrag - Stop The Revelry
17. The Hi-Life Companion - Brockweir Winter Reverie
18. Doris and the Jumpers - Murder Under The Mistletoe
19. Humousexual - Come Take My Hand In Winter
20. The Shrieking Violets - Jethro (Song For)
21. Rebecca Wilmott - A Christmas Echo
22. The Pocket Gods - KFC (Kentucky Fried Christmas)
23. Master Solo - The Last Xmas Of Achiebald Sterling
24. Everett True - A Christmas Tale
25. Marble Krusher - Summer Toys (Winter Version)
Various - A Very Cherry Christmas volume 5 (CD) £6.00
DJs that have played tracks from the album include:
Huw Stevens (Radio 1)
Rob Da Bank (Radio 1)
John Kennedy (XFM)
Vic McGlynn (6 Music)
Tom Robinson (Six Music)